The Sherman County Libertarian Party organizes, sponsors, and supports a variety of classes, workshops, and events intended for the Sherman County community that promote liberty, individualism, self-sovereignty, self defense, and other libertarian principles.
Course Details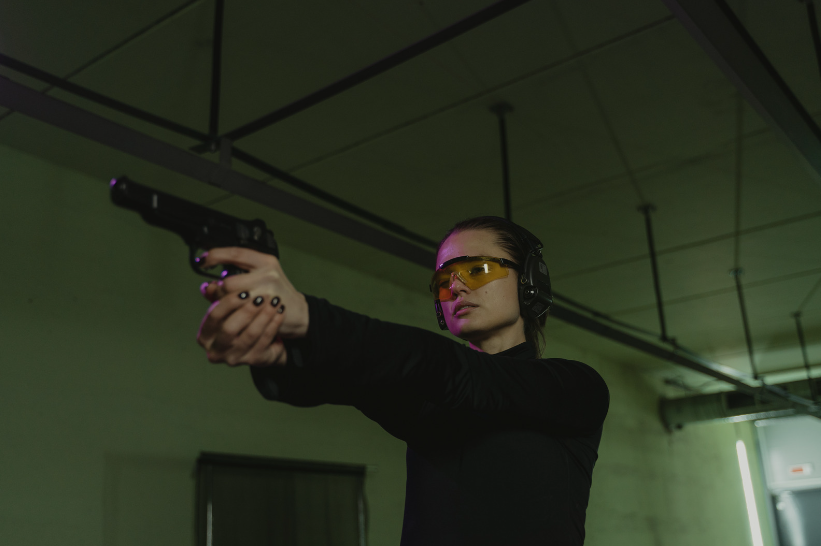 A 4-hour firearm course taught at Salvos Training in The Dalles, OR.
Unlike our past course, this one consists of a single 4-hour session on a single day. The cost is $40 per participant.
Date and time: Saturday, October 7th, 2023, from 1pm – 5pm
This course is an indoor course intended for Sherman County women that want to become familiar with firearms so that they can protect themselves and their families. There is room for only 12 participants. Covering several different firearm topics, the course includes the use of an indoor firearms training simulator with options of interactive scenario training. According to the experienced instructors you will have: "In a safe environment, we are able to help develop and hone critical handgun skills such as drawing from concealment, target acquisition, trigger control and discipline."
A link to register for this course can be found at the bottom of this page. Questions about the training? Email us.
Requirements:
You must be at least 18 years old.
You must be a female.
You must be a current Sherman County resident.
Disqualifications:
If you voted in favor of Measure 114, then you are disqualified from registering for this course.
Course Topics
Firearm Safety – The firearm safety rules, best practices, storage options, etc.
Shooting Fundamentals – Learn how to shoot a firearm.
Techniques – Professional advice on proven techniques.
Concealed Carry – How and why to carry concealed carry options for women.
Use of Force Laws – Become familiar with the laws so you can protect yourself and others.
Firearm Functions – Learn how a firearm works and how to clear malfunctions.
About the Instructors
Salvos Training will be conducting the training in this course at their training facility located at 3721 Klindt Drive, Suite 5, The Dalles, OR 97058. Salvos Training's website is viewable here.
Donny Pickard
"Donny P. is the Chief Firearms Instructor. He is a USCCA Certified Instructor and NRA Basic Pistol Instructor. He is a former LEO and an avid learner, who strives to bring up to date information to his students."
Erin Haines
"Erin H. is a Basic Firearms Instructor, an NRA Basic Pistol Instructor. As a person who did not grow up shooting, she brings an ease to students with her perspective on learning the basics of shooting."
Frequently Asked Questions
Do I have to be a registered Libertarian to attend this course? No.
Do I have to have prior experience? No. This course is intended for beginners.
Will there be a test or exam? No.
Will this course meet the requirements for obtaining my Oregon Concealed Handgun License? Yes.
What is the refund policy? You can cancel up to 24 hours of the beginning of the first session. Request cancellation via email.
Will there be any live-fire of firearms in this course? No. You will handle firearms and use an indoor firearms training simulator.
Do I have to bring any equipment or a firearm? No.
Can I bring my firearm in case I have questions about it? Yes, but make sure the firearm is unloaded and that you do not bring live bullets with you. This is a safety rule at the training facility.
Will the SCLP provide a live-fire course eventually? Yes. We intend to organize such events to encourage individuals to know how to protect themselves, their families, and their communities. Subscribe to our email list and/or follow us on social media to keep an eye out for future courses.
Why do I have to provide my employer information when registering for the class? It is required under campaign finance law, since we are a political action committee.
REGISTER BELOW – 5 OF 12 SLOTS ARE CURRENTLY AVAILABLE
After registration, you will receive an emailed receipt right away and a follow-up email within 24 hours with further course information.
Subscribe below to the SCLP email list to stay informed of upcoming meetings and events: